ATTEND IN-PERSON or LIVE-VIRTUAL
An Essential Conference for Physician Wellness
This leading-edge 5-day Heart and Science of Yoga® Conference presents practical and effective tools to help you as a physician or other healthcare provider to:
Relieve and prevent stress and burnout
Promote optimal health and resilience
Bring back the joy in medicine
Increase compassion and effectiveness in patient care
Increase personal and professional fulfillment
Who Should Attend This Conference
Physicians
NPs and PAs
Lifestyle, Functional, Integrative Medicine Practitioners
Residents/ Fellows
Healthcare Executives
RENOWNED FACULTY
AND SPEAKERS

ENGAGING CLINICALLY
PROVEN CURRICULUM

Physician Burnout Across the USA has Reached Crisis Proportions . . .
In a study conducted by the American Medical Association and the Mayo Clinic, researchers found that when compared to the general U.S. population, physicians:
Displayed higher rates of emotional exhaustion
Reported lower satisfaction with work-life balance
In fact, due to the COVID-19 Pandemic, at the end of 2021, an astonishing 63% of physicians reported burnout-related symptoms, compared to 38% in 2020.
In comparison, a subgroup of participants in the AMI Meditation Study during the first year of the pandemic reported that:
Secondary Traumatic Stress scores were reduced 25.7%
Burnout scores were reduced 21.5%
Compassion Satisfaction scores improved 13.2%.
As a healthcare provider you're called upon to provide the highest quality care.  In order to achieve this, your own optimal health, wellness, and work satisfaction are critical. Yet tedious administrative tasks and increasing expectations concerning productivity and documentation can create enormous stress.  As a result, physicians and health care providers like you are increasingly experiencing anxiety, fatigue, burnout, and depression.
Even if you're not experiencing symptoms of stress right now, you know it's in your best interest and in the interest of your patients that you stay healthy and find meaning in your work and in your personal life.
This course was life changing. The knowledge, expertise and compassion of the faculty introduced to me a practice and philosophy fundamentally different from the way allopathic medicine views the mind and body.  
— STEVEN LEE MD, Psychiatry, New York, NY
You're feeling stressed, drained, or exhausted
Your passion for work is waning as each day passes
You're frustrated with increasing work expectations placed upon you
You're struggling with a mental or physical health condition
You want to learn proven holistic strategies for patient care
You want tools to prevent stress and burnout
You want greater emotional and spiritual fulfillment
If you resonate with any of the above, you're not alone… and this unique conference for medical professionals can help!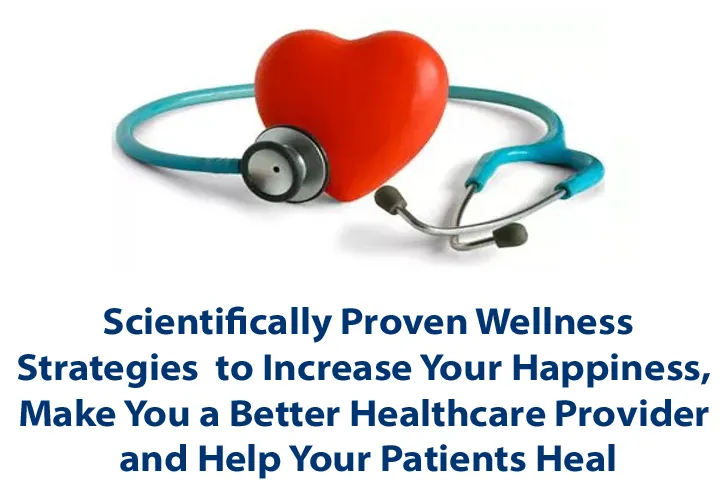 Leonard Perlmutter (Ram Lev) Presents The Science of Yoga:
Leonard is the founder of The American Meditation Institute, developer of the AMI Meditation® curriculum, and originator of National Conscience Month. He is a noted educator, philosopher, and author of the award-winning books The Heart and Science of Yoga® and YOUR CONSCIENCE, as well as the holistic Mind/Body Medicine Transformation journal. Throughout his 46 year career, Leonard has interpreted the science, philosophy and psychology of the world's oldest health and wisdom tradition which dates back over 5,000 years––making it relevant and highly practical for today's physicians and other healthcare practitioners.
Leonard's seminal book, The Heart and Science of Yoga® (free to all conference attendees), was the recipient of the following major Book of the Year awards: Benjamin Franklin, ForeWord Magazine, Independent Publisher Book Awards, Eric Hoffer Awards and Nautilus Book Awards.
This teaching has been an enormous benefit in my personal and professional life. I have less stress, more focus, and am able to serve my patients with greater clarity. It becomes surprisingly easy now to recognize the many clinical situations in which patients with somatic manifestations of 'dis-ease' could greatly benefit from Yoga Science.
— JOEL M. KREMER MD, Internal Medicine and Rheumatology, Albany NY
This is the only CME course I've ever attended that reminds me that in order to be a better doctor I need to take care of myself.
— KARENGA LEMMONS MD, Internal Medicine, DC

This conference has been the best CME course I have ever attended. It gave me a strong foundation to help patients mindfully improve their lives. I learned powerful, practical lifelong skills to use for my greater good.
— VI QUACH MD, Family Medicine, New York
Key Benefits of Attending the Conference
Learn to reduce Burnout and Stress while increasing Compassion Satisfaction
Acquire more inner peace
Strengthen physical and psychological health
Restore your joy in medicine; become better equipped to deal with today's medical culture
Provide more compassionate and insightful care to patients
Achieve greater personal and professional fulfillment
Foster and sustain healthy relationships at work and at home
Advance your spiritual development
Increase energy, focus and creativity
Feel happier, more secure and a greater sense of purpose
Be part of a collegial and collaborative network with other physicians
Improve patient care by improving your own self care; learn new mind/body strategies for patient health
Gain a new, clearer and kinder perspective on yourself and every responsibility you face
Return home with 36 proven tools that can empower you to make discriminating and reliable choices
Key Features of the Conference
Clinically proven AMI Meditation Course curriculum
Accredited by American Medical Association for 34 continuing education credits
Immersive 5-day experience
Expert presenters and scientific studies
Daily guided meditations and breath awareness practices
Resort setting with spectacular views in the Green Mountains
Gourmet, plant-based vegetarian meals throughout conference
Come learn holistic wellness strategies that are grounded in scientifically proven results that can make you a happier person and a better healthcare provider.  You'll have more inner peace and greater harmony in your work and home life.
You'll discover key lifestyle strategies that help your patients heal from chronic diseases, thereby significantly reducing health care costs.
We'll show you easy-to-learn practices that work synergistically within the stress system to reduce inflammation and allostatic load while working toward establishing homeostasis.
"A masterfully designed course! I came away with actionable knowledge and practice to begin my own journey into meditation and yoga."
— FAITH HOLMES MD, Palliative Medicine, TX
Key Aspects of the AMI Meditation Curriculum
Yoga Science
An educational body of knowledge for health & healing
History, philosophy, research and benefits of yoga and meditation
How to use the mind to make healthier choices
How to access the "super-conscious" mind
Understanding pain as an agent for healing
The transformative power of sacrifice
Increasing energy, will power and creativity
The power of desire and attention
Meditation-in-Action
Creative actions rather than reactionary responses
Antidotes for worry, stress and depression
How to create and benefit from you own Yoga Science Lab
AMI Meditation
Systematic procedure for AMI MEDITATION®
How to diminish distractions
Training one-pointed attention for creativity
The one-minute meditation
Using AMI MEDITATION® skills throughout the day
Mantra Science:
– What are the world's greatest mantras?
– How to use thoughts and mantra in the healing process
– How the vibration of the mantra promotes health
Neuroplasticity as an effect of meditation
Easy-Gentle Yoga
Two sets of Easy-Gentle Yoga stretches for exercise and pain relief
Understanding the physiology/anatomy of Easy-Gentle Yoga
Breathing
The meaning of prana (life force)
How breathing irregularities foster dis-ease
Diaphragmatic breathing for pulmonary health
Complete (three-part) yogic breath
Yoga postures for healthy breathing
Alternate nostril breathing for energy & psychological balance
Yoga Psychology
Understanding the anatomy of your real being
How to help the mind function for optimal health
Managing thoughts, desires and emotions
How to experience freedom from fear
Optimizing the power of the present moment
Channeling the four primitive urges:  Food, Sex, Sleep and Self-Preservation
Yoga Nidra (conscious sleep):  Advanced mind/body healing
Psychology of the Chakra System as a diagnostic tool
Alleviating burnout, trauma/PTSD and building resilience
Tools for building and healing relationships
Mind/Body Care Plan
How to reduce burnout and achieve work/life balance in today's culture
Understanding Ayurveda as a science and as a diagnostic tool
Applying Epigenetics and lifestyle choices for health & wellness
How to keep your AMI MEDITATION® practice going and working for you
How to introduce these practices to your patients
Food as Medicine (diet, nutrition, Functional Medicine)
How Yoga Science can help pain management and addiction recovery
"Yoga Science has transformed my life.  I've returned annually because it's so restorative.  The discussions with peers were inspiring, and I recommend this course for everyone without reservation."
— KRISTIN KAELBER MD PhD, Internal Medicine, OH
Our evidence-based curriculum is presented within an exciting and engaging format led by accomplished faculty.  It is designed to encourage active participant interaction through:
Provocative and engaging presentations
Informative panel discussions
Ongoing Q & A
Real-world practicums
In-Person attendance registration includes
32 or 34 hours of live medical education;
Access to private meetings with Leonard and other presenters;
Chef-prepared gourmet whole-food, plant-based meals and snacks;
Six month access to conference video recordings;
Unique networking opportunities;
Alumni dinner and discussion; "Peaceful Warrior" movie and discussion;
Signed limited edition giclee by Jenness Cortez;
5 ½ hour online Yoga Science video course;
Free copies of "The Heart and Science of Yoga" and "YOUR CONSCIENCE;"
Free guided AMI Meditation® audio recording;
Extensive course handouts;
AMI bookstore
Live-Virtual attendance registration includes
32 hours of live medical education;
Six month access to conference video recordings;
5 ½ hour online Yoga Science video course;
Free eBook copies of "The Heart and Science of Yoga" and "YOUR CONSCIENCE;"
Free guided AMI Meditation® audio recording
"Amazing Conference.  Life altering.  The flow of lectures built on each other and everything was pulled together beautifully."
— COLLEEN OPREMCAK MD, Psychiatrist, OH
Upon completion of The Heart & Science of Yoga® conference, participants will be able to:
Demonstrate knowledge of how using the tools of Yoga Science as mind/body medicine can help heal disease, manage addictive habits, alleviate stress, and reduce and prevent burnout
Develop equanimity, discrimination, will power, creativity and energy with a daily practice of AMI MEDITATION® & diaphragmatic breathing
Incorporate long-term strategies for healthy lifestyle choices using Yoga Psychology
Demonstrate knowledge of the principles of both Ayurveda and Epigenetics
Utilize Yoga Science practices to transform trauma and increase resilience
Utilize Food as Medicine to maximize personal wellbeing
Demonstrate knowledge of the research and therapeutic modalities of yoga and meditation as mind/body medicine
Reimagine a medical practice that incorporates Yoga Science tools
Recognize the physiological benefits of Easy-Gentle Yoga, and identify and disable chronic pain mechanisms for improved exercise, health and pain relief
Help themselves and their patients reduce conditioned habits of negative thinking and other symptoms of burnout through the healing powers of AMI MEDITATION® and mantra science
Use Chakra Psychology (subtle emotional/mental causes of stress) to assist in diagnosing and treating dis-ease
Recognize how AMI MEDITATION® and meditation-in-action change neural pathways in the brain to help manage pain and increase creativity
Identify altered pathways in the brain due to stress or burnout, and recognize the capacity of Yoga Science and AMI MEDITATION® to assist brain chemistry and circuitry to heal and rebuild itself
Use Yoga Science to create a personal and medical culture of health and wellbeing for themselves and greater compassion for their patients
"This has given me a new perspective on life.  New connections with like-minded professionals.  Everybody should attend, and the food was great and plentiful."
— STACEY PRISTELSKI NP, Family Medicine, WI
U.S. Physician Accreditation
The American Meditation Institute's Heart and Science of Yoga® Conference has been planned and implemented in accordance with the Essential Areas and Policies of the Accreditation Council for Continuing Medical Education through the joint providership of Albany Medical College and The American Meditation Institute. Albany Medical College is accredited by the Accreditation Council for Continuing Medical Education (ACCME) to provide continuing medical education for physicians.
The Albany Medical College designates this Live activity for a maximum of 34 AMA PRA Category 1 Credits™. Physicians should claim only the credit commensurate with the extent of their participation in the activity.
"Amazing conference!  Signed up to try something different – incredible speakers, real world tools to help center your mind and continue to build on AMI's exposure to Yoga Science and its place in your busy practice and life.  Well worth the money – beautiful facility and amazing meals.  Highly recommend if you feel burnout, or just want to try a different way to look at life."
— ALEXANDRA OSTROWSKI NP
DISCLOSURE POLICY: The American Meditation Institute (AMI) adheres to all ACCME Essential Areas, Standards and Policies. It is AMI's policy that those in a position to influence the content of a CME activity (such as planners, faculty, authors and reviewers) disclose all relevant financial relationships with commercial entities. These disclosures will be provided in the activity materials. Additionally, faculty members have been instructed to disclose any limitations of data presented.