What is Yoga Science?
The American Meditation Institute is a 501(c)3 non-profit educational organization devoted to providing comprehensive training in Yoga Science—the world's oldest holistic mind/body medicine and the core principle of every spiritual tradition. Yoga is the sacred science that provides proven benefits by facilitating the union of the superconscious mind with the physical, mental and emotional elements of everyday life. Founded in 1996 by Leonard and Jenness Perlmutter, AMI combines ancient Eastern wisdom and modern Western science in a practical, empowering curriculum. The foundation course of this curriculum is AMI MEDITATION.
FEATURED ARTICLE
#MeToo, Opioid Crisis, Gun Control
To make the best choices in every issue in life you must first answer these 5 questions: Who am I? Where have I come from? Why am I here? What's to be done? Where shall I go?
Heather Rivenburg
Parade magazine suggests that you think of meditation playing these unique roles: DNA Repair Person influencing the way your genes express themselves as you age. [...]
Heather Rivenburg
U.S. Army Research Laboratory (ARL), in partnership with Helius Medical Technologies, Inc., is studying the use of mindfulness-based stress reduction (MBSR) among soldiers [...]
Heather Rivenburg
According to the American Foundation for Suicide Prevention, an estimated 300 to 400 physicians commit suicide each year-- about one physician per day.  [...]
Leonard Perlmutter's
Award Winning Book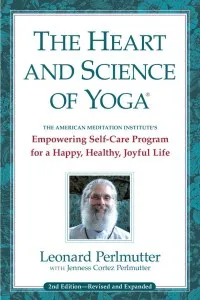 The complete blueprint
for constructing a practical bridge between your own inner wisdom and outer actions.
LEARN MORE
2nd Edition
Revised & Expanded
Endorsed by:
Dr. Oz
Dean Ornish MD 
Bernie Siegel MD
Larry Dossey MD
Since 1996 AMI has served nearly 3000 students—teaching practical skills to enhance personal, professional and spiritual growth. Now, we turn to you—to assure that the practical teaching of Yoga Science will continue to grow. As a non-profit educational organization, AMI is not financially self-sustaining. We ask your help in supporting the Institute's mission of service.
AMI MEDITATION Techniques Can Relieve and Prevent Physician Burnout
Learn practical tools that can empower you to make conscious discriminating and reliable choices to enhance your creativity, well-being and happiness.  Our comprehensive, accredited CME conferences, retreats and classes are designed to help identify, prevent and relieve physician stress and burnout.