August Discussion Topic:  CONSCIENCE
"Always let your conscience be your guide." — Jiminy Cricket
In Walt Disney's 1940 animated classic "Pinocchio," a little cricket named Jiminy lent voice to the big task of guiding Pinocchio to follow his conscience for a happy, healthy and rewarding life.  Just like Pinocchio, we all struggle with the ego's desire for short-term, limited gratification versus the long-term benefit offered by the conscience. The AMI MEDITATION foundation course of Yoga Science explains how you can benefit by teaching your ego, senses and unconscious mind to use the wise counsel of your own conscience.  Enjoy this video clip and join us in exploring this month's teachings on the importance of the CONSCIENCE.
Our Conscience Uncovers the Truth
That Leads to Fulfillment
To lie or not to lie. That is the question. The internal dialogue that takes place while we decide whether or not to serve the Truth usually sounds like this: "If I lie, the outcome I fear will probably just disappear. If I speak the Truth, the outcome I fear is going to cause me pain."
What is Yoga Science?
The American Meditation Institute is a 501(c)3 non-profit educational organization devoted to providing comprehensive training in Yoga Science—the world's oldest holistic mind/body medicine and the core principle of every spiritual tradition. Yoga is the sacred science that provides proven benefits by facilitating the union of the superconscious mind with the physical, mental and emotional elements of everyday life. Founded in 1996 by Leonard and Jenness Perlmutter, AMI combines ancient Eastern wisdom and modern Western science in a practical, empowering curriculum. The foundation course of this curriculum is AMI MEDITATION.
Heather Rivenburg
Women's Health magazine debunks the Top Five Myths about meditation. The goal of meditation is to eliminate thoughts.  Meditation is not about blocking out thoughts, [...]
Heather Rivenburg
Air travel can be stressful.  The hurry-up-and-wait at an airport and trying to navigate the crowds and security can be exhausting and compromise [...]
Heather Rivenburg
The American Meditation Institute offers yoga and meditation instruction in Albany NY. Accredited Nursing CME & Physician CME Courses. Meditation and Yoga Retreats in Albany NY area.
Leonard Perlmutter's
Award Winning Book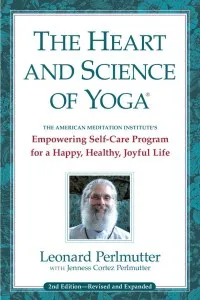 The complete blueprint
for constructing a practical bridge between your own inner wisdom and outer actions.
LEARN MORE
2nd Edition
Revised & Expanded
Endorsed by:
Dr. Oz
Dean Ornish MD 
Bernie Siegel MD
Larry Dossey MD
Since 1996 AMI has served nearly 3000 students—teaching practical skills to enhance personal, professional and spiritual growth. Now, we turn to you—to assure that the practical teaching of Yoga Science will continue to grow. As a non-profit educational organization, AMI is not financially self-sustaining. We ask your help in supporting the Institute's mission of service.
AMI MEDITATION Techniques Can Relieve and Prevent Physician Burnout
Learn practical tools that can empower you to make conscious discriminating and reliable choices to enhance your creativity, well-being and happiness.  Our comprehensive, accredited CME conferences, retreats and classes are designed to help identify, prevent and relieve physician stress and burnout.